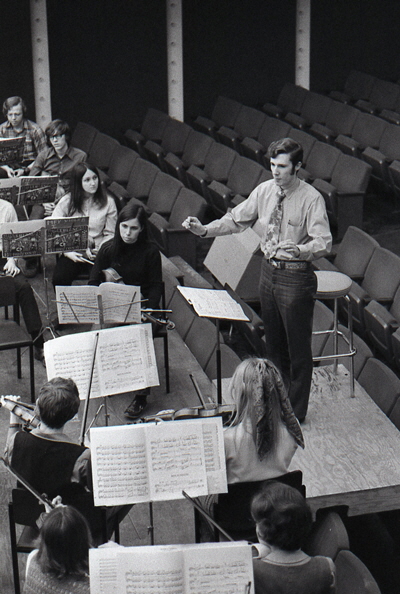 Birth of the Colorado Springs Chamber Music Society
Once upon a time... there was a war known as the "Vietnam Conflict." President "Tricky Dick" Nixon started the military draft on December 1, 1969, drawing lottery numbers for all men born between 1944 and 1950. Musicians who were in college and professional musicians who had a lottery number of 195 or lower discovered that the N.O.R.A.D. (North American Defense Comand) Band in Colorado Springs, a highly professional concert band and jazz band, was accepting selected musicians by audition process only -- at the expense of the applicant
The NORAD Band attracted some of the finest musicians in America at the time. Most members had attended music school and had bachelors and masters degrees in music. These were the musicians who would rather play in the band than carry a rifle in Vietnam.
Michael Gibson had a draft number of 21. After being denied a student deferment by his draft board to finish his Masters Degree at Northwestern University, Gibson had his first airplane flight to Colorado Springs and auditioned to play trombone in the NORAD Band. He was accepted for an Air Force slot that was a 4-year commitment. Gibson enlisted in the Air Force in June of 1971 two days before he would have been drafted and according to entrance tests would most likely have been flying over enemy territory in the back of a plane trying to decode secret messages (did well in languages).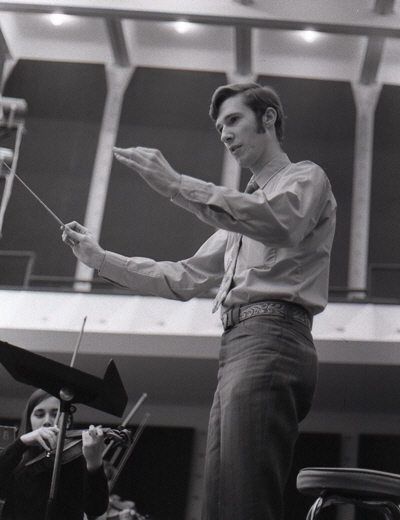 In January of 1971, Gibson's primary orchestra conducting teacher, Bernard Rubenstein, Conductor of the Northwestern University Orchestra and the Milwaukee Symphony Youth Orchestra, asked Michael to substitute for a rehearsal of the MSYO.
The photos to the right were taken during the rehearsal of the Milwaukee Youth Symphony playing L'Oiseau de feu (Firebird) Suite by Igor Stravinsky in Uihlein Hall in the Marcus Center for the Performing Arts in Milwaukee, Wisconsin.
At NU Michael had started on his Masters Degree program before finishing his Bachelors Degree in order to keep his student deferment from the draft. He finished his Bachelor of Music Education Degree and gave his Masters Degree Recital (see below). The recital was a combination of trombone and conducting. Gibson assembled a fantastic group of fellow musicians who performed expertly. Then he enlisted in the Air Force in June and ended up at Peterson Field in Colorado Springs in the NORAD Band after basic training at Lackland Air Force Base, near San Antonio, TX.