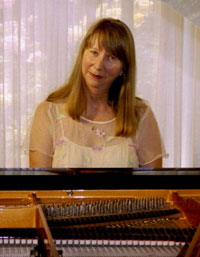 If you want to learn how to play the piano, sharpen your skills, or become a concert pianist, I can help you. I specialize in lessons for children. I also teach older children and adults from beginning to advanced levels. My broad experience in teaching, accompanying, and performing offers the student outstanding assistance in interpretation and technique. I prepare interested students for piano and theory examinations with the Associated Board of the Royal Schools of Music (ABRSM). Students may play in prestigious Piano Recitals performed at the Foothill Presbyterian Church in San Jose or other excellent venues
and/or at relaxed home recitals.
I studied piano, cello, and accompaniment at the Royal College of Music and I am an Associate of the Royal College of Music (ARCM) in London England and offer preparation for the Royal Schools of Music Associated Board Examinations, Practical Grade I to VIII and Theory Grade I - V Certificates. I have had a master class with Nadia Boulanger and extensive experience in England and in the Bay Area.
I teach more than 30 piano students per week and was cellist for the Silicon Valley Symphony.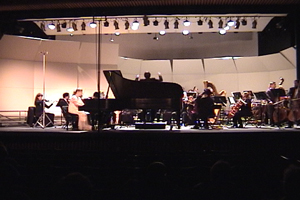 I have been piano soloist with the Foothill Orchestra, playing "Piano Concerto No. 22" by W.A. Mozart on December 15, 2001 in the Star Spangled Bonanza Benefit Concert for the September 11th victims and heroes. I was Concert and Rehearsal Pianist for the Menlo Park Chorus from 1998 - 2005; was pianist for the Children's Choir at the Presbyterian Church of Los Gatos from 2004 - 2009; performed celeste (Dance of the Sugar Plum Fairy) with the Silicon Valley Symphony during their colaboration with San Jose Dance Theatre's performance of "The Nutcracker Ballet" in the San Jose Performing Arts Center for 2009, 2010, and 2011. Before that was rehearsal pianist for Ballet San Jose Dance School for several years when I first moved to California.

While in England I performed with Christopher Brown both as a cellist and alto singer in the Huntingdonshire Philharmonic Choral and Orchestral Society. While I was a senior faculty Staff Accompanist at Huntingdonshire Regional College, I sympathetically guided many thousands of students through the English Music Examination Grade System (ABRSM). I was full-time piano teacher and accompanist for 5 years in the Music Department of the prestigious Kimbolton School (private school where the Prime Minister's [John Major] children attended) and for 10 years at the Huntingdonshire Regional College.